PUBLISHED
May 15, 2022


KARACHI:

Agriculture forms the backbone of Pakistan's economy but the communication gap between the farmers and stakeholders has long limited the market's potential, resulting in reduced production. Farmers have consistently been left out of profit making in the agricultural industry and continue to rely on agents, or Arthis, for the business side of their work.
To address this problem, a young entrepreneur, Ayesha Ahmed, came up with a novel solution. In 2019, she made a platform named PakAgriMarket to bring stakeholders in agriculture onto a single platform. She aimed to use the platform to give farmers more options for selling their products, so they'd be able to increase their earnings.
Ahmed completed her degree in computer engineering from NUST in 2010 and got married during the final year of her schooling. Both her father and mother were civil servants, and her husband's family owns land in Sahiwal where they are also involved in farming. When she visited Sahiwal for the first time, Ahmed experienced life in agriculture for the first time. She realized the hardships farmers must go through to put food on people's tables.
Ahmed observed the work that went into each step – sowing seed, cultivating it, harvesting it and managing crop output – before the final product reaches consumers. She started thinking about ways to make the process easier. "[As a] computer engineer, I had so many ideas [about how] with the help of technology, they can improve production and earn more than they are now," Ahmed told The Express Tribune.
After analyzing the traditional methods used for farming, Ahmed and her husband went to Belgium, where they learned about Precision Agriculture (PA), or satellite farming, which involves satellite imagery to analyze the condition of the fields to optimally distribute resources. Her husband, Owais, also did a course in Remote Sensing in Geographic Information Systems (GIS).
Both Ahmed and her husband got offers from companies in Belgium, but they were focused on returning to Pakistan to serve the agricultural community. Even after marriage, Ahmed knew she wanted to put her knowledge of technology to work."[For] five years that I have been doing freelance work, but I never stayed away from tech," Ahmed said. "Usually, we see a trend here that after marriage, when the female has kids, they leave everything, but I always stayed connected to technology."
Serving Pakistan
Ahmed and her husband came back to Pakistan where planned to build a farm to put their knowledge to work, installing sensors that would allow them to manage it remotely. But she still didn't feel like this was innovative enough. "This was something a lot of people were already doing," Ahmed said. "We wanted to do something which was missing."
One day when they were sitting on their farm, Ahmed's brother-in-law [?] started receiving calls about problems farmers were facing: seeds weren't being delivered on time, machinery was having issues, and it was hard for farmers to solve these problems alone. "We realized that there is a need to bring all of them on a single platform. The need to build a community," Ahmed said.
That is when the idea of PakAgriMarket emerged. Ahmed and her husband made notes and built a website over the next three months. Then, they started asking friends, acquaintances, and relatives to list their businesses on the site. They also integrated WhatsApp to make it easier for farmers and sellers to connect. Gradually, companies listed themselves on the platform and started to advertise.
Monitoring the response, they decided to do research to scale it up even further. The attended a conference where judges took notice of Ahmed's efforts and advised her to pursue it. So she and her husband kept on the conference circuit and joined the National Incubation Center (NIC) to get feedback from industry experts about how to take the idea to the next level.
For around six months, Ahmed and her husband operated from home, keeping their operation small. But they soon realized they had the potential to also operate in urban areas, which would scale the initiative up considerably. At this point, they started exploring the northern and southern parts of Pakistan as potential markets. One of their major takeaways was that people working with farmers, including agents and shopkeepers, are also important stakeholders in the business. "If we want to bring [a] revolution in agriculture, then [these people] …should also be empowered with technology," she said.
Ahmed and her husband started interviewing these people about their problems as well and identified key issues, including low-quality products, limited access to machinery, limited selection of products and limited manpower. They also heard from stakeholders that they were having trouble installing the latest technologies and were unable to connect with vendors to get new equipment.
Getting sellers, transporters, harvesters, market agents and farmers digitized by joining the platform made the process easier for them, getting their goods and services listed on the website under a specific category. During the pandemic, PakAgriMarket proved to be especially helpful as it allowed agents and sellers to keep on with their business even when physical markets were closed. Farmers could continue to communicate with agents and transporters who could make deliveries in the smart lockdown window.
For any specific product, users of the application can see sellers listed in rural and urban areas. Covid times proved that the platform gave sellers where were listed more traction than others, at the same time improving communication with farmers.
Financial model
Gradually, stakeholders' interest increased, and Ahmed wanted to get PakAgriMarket listed in the directory and on the websites so that buyers could see pictures and specifics about the products offered. At this time, she heard about the Standard Chartered Women in Tech (SCWomeninTech) accelerator supporting female-led entrepreneurial teams with business management training, mentoring and seed funding.
Ahmed wanted to include features on the website that were requested by stakeholders, but they were short on funds. When she went to SCWomeninTech, she was able to convince the judges of the usefulness of her platform and secure a grant. "It wasn't easy," Ahmed said. "Our startup had no financial model as up till now, we were working on goodwill."
With the help of the accelerator, she started thinking about how to generate revenue from the startup. But since her stakeholders are farmers, she didn't want to put a burden on them, so she created a subscription model. With this, vendors can pay to be listed at the top of the site while farmers pay two rupees per week to be on the platform. The website also offers a pool of farmers, which people can get connected through via the platform.
After implementing this subscriptions model, PakAgriMarket was able to secure a grant of 1.5 million rupees from SCWomeninTech. With this, they were able to include pictures and rates for products, and people's interest gradually increased. Stakeholders could compare rates from different markets and buy or sell their products at better rates. They soon started getting requests for solar panels, tractors, and other agriculture product vendors who wanted to join the platform.
Now, farmers can sell crops at better rates and don't have to rely on one agent but have multiple options, Ahmed said. Buyers also have multiple options since the platform has become a point of contact between vendors and the market. Consumers are also using it to buy in bulk and can go directly to the farmer to get their requests met. Ahmed said farmers can use the application to connect with exporters too. The success of the platform, Ahmed said, is something she didn't anticipate. "We didn't foresee any of this."
Khadija Hashimi, head of corporate affairs at Standard Charter Bank said Ahmed's startup was selected for support from SCWomeninTech because very few women are active in the agricultural sphere, even though farming in Pakistan depends on the informal contributions of millions of women from rural areas.
"Ayesha's story is very unique," Hashimi said. "[Marrying] into a rural farming household, Ayesha experienced the challenges that farmers faced on a daily basis." He said Ahmed and her cohort will go through an intensive two month training and mentorship period to refine their proposed projects.
At the end of the period, they will present their plans to a jurty who will select winners. These winners will be awarded an extended mentorship and financial supported awarded over a period of nine months. They will continue to get support after this time frame depending on the needs of their business.
Problems and solutions
When new technology is introduced into any market there's often pushback. PakAgriMarket also faced issues reaching out to farmers and other stakeholders who were not open to adopting this process because they feared they would have to pay more in taxes if they did.
Ahmed said that when they introduced PakAgriMarket to stakeholders, many of them appreciated it, but some were afraid it would change their traditional way of doing things. They were also hesitant to cut out agents, who had long been a big part of their business. In the end, Ahmed said many farmers decided there were ways to keep the traditional way alive while still integrating technology by including agents in listings, too.
"Farmers who are using the platform can get a choice of Arthis, and the farmers who are not using the platform can sell it to Arthis," Ahmed said. "Arthis will have a choice to sell it to the buyer of their choice and get better rates."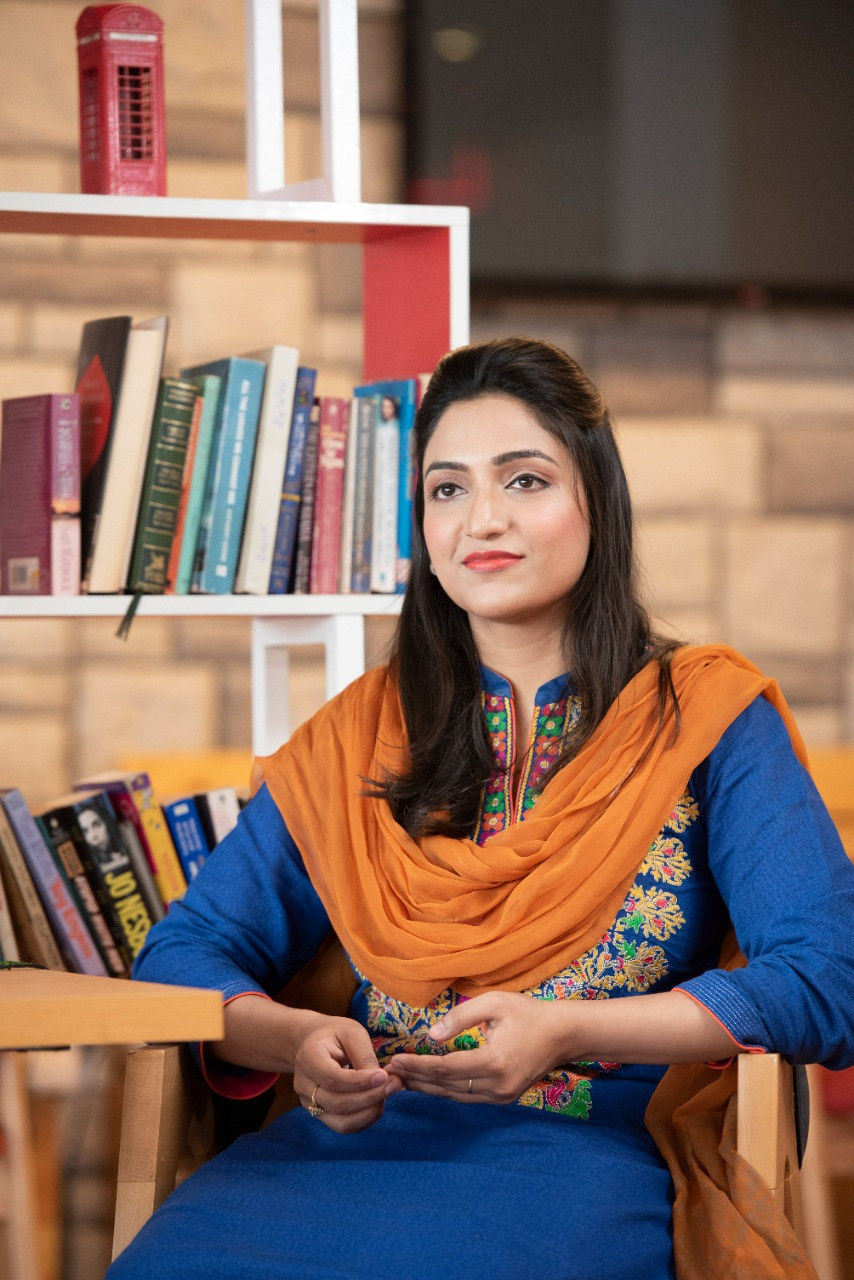 Although the platform was generally well-received, there were still occasionally problems. Occasionally vendors didn't deliver products on time, or delivered the wrong products, which users or buyers blamed on the platform. "We explained to them that we are only facilitators, and we don't take a guarantee of the product," Ahmed said. "But this was something to be addressed and solved," she said.
To create solutions for these kinds of problems and help subscribers better utilize the platform, PakAgriMarket created a rating system so users can provide feedback to the vendor or farmer they are dealing with. Ahmed said this also helped them keep track of the quality of products being produced and sold and it enabled the farmers to maximize production.
Training farmers
The most challenging part for Ahmed and her husband was creating the listing. People were not open to sharing their business details and didn't want their sales to be put on record, she said. Some who agreed to join the platform didn't know how to get the maximum benefit from it, so they decided to hold training sessions in different areas to educate stakeholders, especially farmers, about how to use it. "It was difficult to explain it to all of them individually," Ahmed said. "So this training helped educate the masses."
Holding meeting with farmers is also part of the process of growing the platform. Ahmed said such meetings allow them to address the issues that farmers are facing and figure out how to solve them. She said these meetings also aim to show users that PakAgriMarket is on the ground and working for their betterment.
Ahmed said they don't pressure users to use the platform but introduce them to it and help them if they are having trouble using it. If that happens, they change the interface accordingly. She said this helps build a better user interface and build trust from stakeholders who can see the platform is aiming to improve for them.
"This is a continuous process," Ahmed said. "We will keep on making amendments and introducing new features as we get to know the issues."